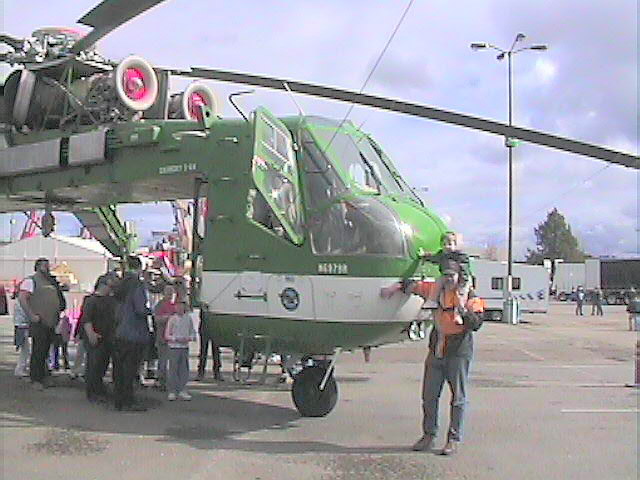 Welcome to my site! My name is Mike Spinner and I live on the Oregon coast. I'm married, to a wonderful wife, Cindy and we have a son Jackson which you can see in the photo at about2 1/2 years old next to our favorite helicopter, the S-64E. I'm also a volunteer firefighter with the Siuslaw (pronounced "SI-U-SLAW") Valley Fire/Rescue, and have been for the past 7 years. I am currently working as an apprentice electrician with Siuslaw Valley Electric Inc. My family owns a window cleaning business that I occasionally help out with. Nuff about Me!!
I Love HELICOPTERS!!!! I've been into helis all my life, models about 5 years, and now I am into Scale Model Helicopters. My first semi-scale was a LMH with a H-500 tail. Needless to say it didn't last long. The next was a Funcky LongRanger that WAS to be a Bell 407. Hard lessons were learned on that one. Next was a Hirobo Lama that was basicly scratch built after all the plastic peices broke. Now I am working on a scratch built fiberglass Hughes 500D for my Raptor 46.
For the time being, I have just finished a New Bell 407 while I'm working on the 500.
WHAT IS IN THE PHOTO PAGES
THE PHOTO PAGES ARE ALWAYS BEING UPDATED. I'LL TELL YOU HERE WHAT IS IN A PARTICULAR PHOTO PAGE

PHOTO PAGE has the photos of the 2002 Las Vegas Scale Fly In.

PHOTO2 PAGE has the Rebuilt Lama pics.

PHOTO3 PAGE has the old Bell 407 pictures.

PHOTO4 PAGE has the pictures of the 29 1/2" round saw with a Sikorsky S-64E dipping water. THE SAW IS DONE!! The last two pics are on this page. SEE HOW IT TURNED OUT!!

CATALOG PAGE Has my landing gear sets I build for the 46 Long Ranger, 60 Min Air Long Ranger, and the 30 Hirobo Heuy. take a look and see if I can build a set for you. Just E-mail me with your info and I'll get back with you.

PHOTO PAGE 6 has the WATER BUCKET build up every one has been asking for...more to come!!
WHATS NEW!?!?!

WATER BUCKET BUILD UP


In Photo Page 6, I have a build up of a working water bucket called a "GRIFFIN BUCKET". Its a hard bucket unlike the Bambi Bucket which is soft. For about 3 years, I've worked on this design and it only took about a dozen of them to get it right. Lots of practice and about and you could be dipping water out of a cut down 5 gallon bucket to hit an imaginary, or not so imaginary fire!!!!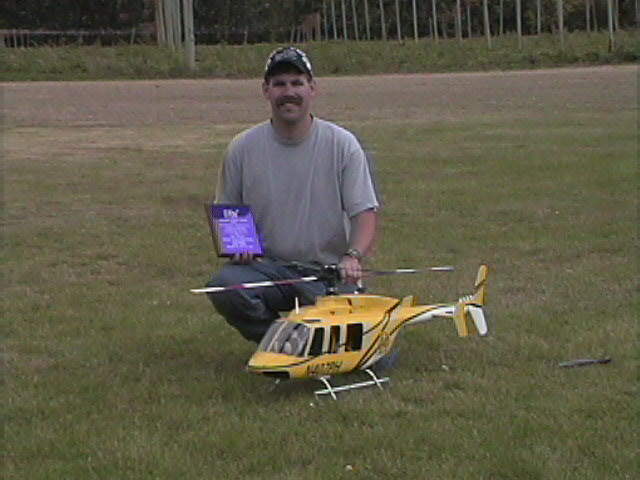 THE NEW BELL 407
I wanted something scale to fly while I work on the Hughes 500 for the Raptor. It has working nav lights, Real strobe, and workable, on/off landing lights. The whole heli weighs in a 10lb 5oz dry. I figure its a little over 10.5 lbs wet. There are over 1 lbs of batteries in the nose just to ballence the heli due to the fact that the electronics for the strobe are in the tail cone. Its smooth and fast and the 46 seems to have no problems with the weight. Althought I dont think i want to auto it!!! As you can see, The 407 won the Brooks Scale contest in September of 2002. Since then, the old mechanics and the 46 were sent to heli heaven and a brand new Raptor 50 with TT Pro 50 was put in and is flying smoother than ever. I did how ever take the fuse and store it for the winter in preperation for the H-500 scedualed to be done in April of 2003......I Hope!!!
Send an email